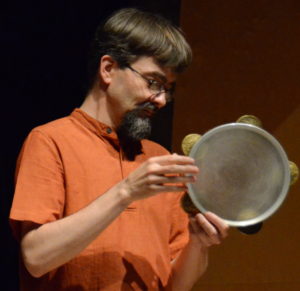 Ken is a diverse percussionist who specializes in the hand drumming traditions of the Middle East and India. He is based in Canada, but his musical passions have taken him to many parts of the globe.
In addition to drumming, Ken is also an avid player and teacher of Indonesian gamelan music. His ensemble, Mindful Flower Gamelan, performs traditional and contemporary music for gamelan degung. The group's first recording, featuring new gamelan music by Canadian and Indonesian composers, is currently in post-production.
In recent years, Ken has been a featured performer (as both bandleader and accompanist) at the Halifax Jazz Festival, Sound Symposium, Prismatic Festival, Lunenburg Folk Harbour Festival, Sunfest, Mosaiq Festival, Deep Roots Music Festival, and on national broadcasts for CBC Radio 2.
Some of Ken's current projects include teaching Gamelan and World Music courses at Acadia University, composing and touring with his hand-drumming group, Ken Shorley Trio, collaborating with cellist India Yeshe Gailey in the chamber music duo, Bonsai, and sharing the stage with the amazing Nasr sisters (Ariana, Sahara and Kamila) in the world music ensemble, ASHK.
Ken is a proud endorser of Cooperman Frame Drums.